Expert Travel Tips: Top 10 Do's and Don'ts for Navigating Cancun Like a Pro
Cancun is one of the most popular tourist destinations in Mexico, attracting millions of visitors every year. The city is known for its stunning beaches, lively nightlife, and rich culture. However, navigating Cancun can be overwhelming, especially for first-time visitors. To help you make the most of your trip to Cancun, we have compiled a list of the top 10 do's and don'ts that will enable you to navigate the city like a pro. First, do your research before you arrive in Cancun to ensure you have a clear plan of action. Second, make sure to bring plenty of sunscreen and stay hydrated throughout the day. Third, take advantage of Cancun's many public transportation options to get around the city easily. Fourth, explore the local cuisine as much as possible and try new foods. Fifth, do not forget to bring cash as many places do not accept credit cards. Sixth, do not leave your valuables unattended or in plain sight. Seventh, be respectful
Warning: Beware of Timeshare Scams at Cancun Airport Terminal 3
As a traveler, it is important to be aware of the potential dangers and scams that may exist in popular tourist destinations. One such area to exercise caution is at Cancun Airport Terminal 3, where timeshare scams have been reported. These scams typically involve individuals posing as airport representatives or timeshare salespeople, offering attractive deals on vacation packages or timeshares in exchange for a deposit or other upfront payment. It is crucial to remember that legitimate businesses do not typically require upfront payments before providing a service or product. To avoid falling victim to these scams, travelers should be wary of unsolicited offers, avoid providing personal or financial information, and research any companies or individuals claiming to offer vacation packages or timeshares. Additionally, it is recommended to only engage with reputable vendors and to report any suspicious activity to airport or local authorities. By being vigilant and cautious, travelers can help protect themselves and their vacation plans from the risks of timeshare scams at Cancun Airport Terminal 3.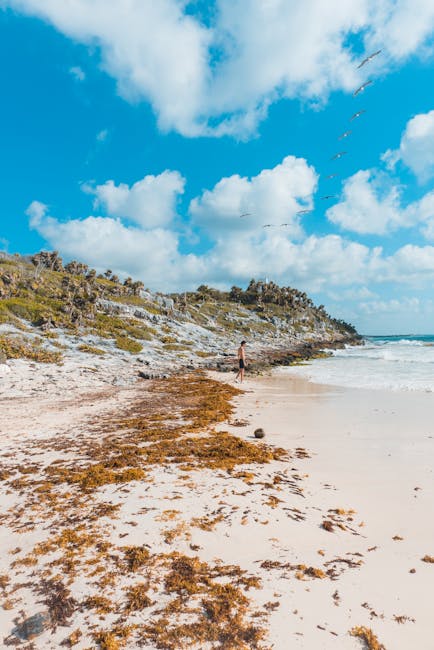 Save Money on Transportation in Cancun: Avoid Taxis and Follow These Expert Tips
When it comes to saving money on transportation in Cancun, avoiding taxis and following these expert tips can make all the difference. One of the easiest ways to save money is to use public transportation. The primary mode of public transportation in Cancun is the bus system, which is both efficient and inexpensive. Visitors can purchase tickets at various locations, including the airport or bus terminals. Another way to save money is to walk or rent a bike. Cancun has numerous bike rental shops, making it a convenient and eco-friendly option. For those who prefer to use ridesharing services, there are a number of options available, including Uber and Cabify. However, it's important to note that using these services can be more expensive than public transportation or biking. Furthermore, travelers should always negotiate prices with taxi drivers before getting in the vehicle. By following these expert tips, visitors to Cancun can save money on transportation and use those savings to explore all that the city has to offer.
Maximizing Your Savings in Cancun: Tips for Affordable Transportation and Adventure Parks
When visiting Cancun, maximizing your savings is a great way to stretch your budget and get the most out of your trip. One area where you can save money is with affordable transportation. While taxis and rental cars can be expensive, there are other options such as public buses or even walking that can save you money. Public buses in Cancun are frequent, reliable and cheap. They are a great way to get to different parts of the city without spending a lot of money. And if you're feeling adventurous, you can always rent a bike or a scooter to explore the area on your own. Another way to save money in Cancun is by visiting the many adventure parks that the city has to offer. These parks offer a variety of fun activities such as zip-lining, snorkeling, and swimming with dolphins. Many of these parks offer discounted rates if you buy tickets in advance or if you purchase a package deal. By planning ahead and doing some research, you can save money on transportation and activities
Tips for Enjoying Cancun's Top Parks and Staying Safe: Don't Drink Tap Water
When visiting Cancun, it's important to prioritize your safety and health in order to fully enjoy the top parks and attractions in the area. One crucial way to ensure this is by avoiding drinking tap water. The tap water in Mexico may be unsafe for consumption due to high levels of contaminants and bacteria, which can cause illness and ruin your trip. Instead, opt for bottled water or bring a reusable water bottle with a filter to ensure you're only consuming clean, safe water. Additionally, be sure to pay attention to food safety guidelines, such as avoiding raw or undercooked meats and fruits and vegetables that may have been washed in tap water. By taking these precautions, you'll be able to fully enjoy Cancun's top parks and attractions while keeping your health and safety a top priority.
5 Essential Tips for a Safe and Fun Cancun Vacation on a Budget
When planning a vacation to Cancun, one of the most important things to consider is how to make the most of your experience while staying within your budget. While it may seem challenging to have a fun and safe vacation on a tight budget, there are ways to make it work. One of the simplest ways to save money on your Cancun vacation is to book your accommodations during the off-season. This will not only help you save money on your lodging, but it can also help you avoid the crowds that typically flock to the area during peak season. Another tip for a budget-friendly Cancun vacation is to plan your activities in advance. By researching and booking tours and activities ahead of time, you can often secure lower prices and avoid last-minute fees. It's also essential to be mindful of where you eat during your trip. While it can be tempting to dine at fancy restaurants, eating at local eateries and street vendors can often provide you with a more authentic experience while also helping you save money.
Protect Your Finances While Traveling: Tips for Using Credit Cards in Cancun
When planning a trip to Cancun, it's important to keep your finances in mind. While you may be busy preparing for your trip, it's essential that you take steps to protect your finances while you're there. Using credit cards in Cancun is an excellent way to keep your money safe while also enjoying the convenience of cashless transactions. However, it's important to be mindful of potential risks and take precautions to protect your card information. Before you depart, get in touch with your bank to let them know about your travel plans. This way, they can monitor your account for any suspicious activity. While you're in Cancun, avoid using unsecured Wi-Fi networks to make purchases or check your bank account. This can compromise your card information and put your finances at risk. Additionally, be wary of skimming devices, which scammers use to steal credit card information from unsuspecting tourists. To avoid being a victim, stick to using ATMs located in secure, well-lit areas,
Expert Tips for Safe and Smart Money Management in Cancun, Mexico
When it comes to managing your money in Cancun, Mexico, it's important to be both safe and smart. One of the first tips from experts is to carry a limited amount of cash with you and use a credit or debit card for most transactions. This not only reduces your risk of theft or loss, but it also makes it easier to track your expenses. Another important consideration is to exchange your currency at reputable banks or exchange houses, as some street vendors or unlicensed exchange booths may offer low exchange rates or counterfeit bills. Additionally, experts advise against carrying valuable items such as jewelry or expensive electronics in public areas or leaving them in hotel rooms. Another smart money management tip is to research and compare prices for activities, tours, and food options in advance to ensure you're getting the best value for your money. Finally, it's recommended to set a budget and stick to it, avoiding impulse purchases or overspending at popular tourist areas. By following these expert tips, you can enjoy a safe and
Maximizing Your Hotel Experience in Cancun: Tips on Tipping and Keeping Your Bracelet
When it comes to making the most out of your hotel experience in Cancun, there are a few key things to keep in mind. First and foremost, tipping can go a long way in ensuring that you receive top-notch service throughout your stay. Whether you're dining at a restaurant or receiving housekeeping services, it's generally expected that you'll leave some extra cash for the staff. In many cases, tips are split among multiple individuals, so even small gestures can make a big difference.
Another important factor to consider is your hotel bracelet. This is typically given to guests upon check-in and serves as proof of your membership in the hotel's all-inclusive program. Keeping this bracelet on at all times can be crucial for accessing certain amenities, such as the hotel's private beach or pool. Additionally, some staff members may be instructed to check bracelets before providing services, so you don't want to risk losing yours. That being said, it's always a good idea to take precautions to ensure that your
Maximizing Your Cancun Experience: Tips for Budget Travelers to Explore the City's Nightlife
As a budget traveler exploring Cancun's nightlife, you can still maximize your experience with these tips. First, plan out your spending by researching and comparing prices of nightclubs, bars, and restaurants ahead of time. Look for happy hour specials, drink discounts, and free cover events. Secondly, try to stay in a hostel or budget hotel near the party zones to avoid expensive transportation costs. You could even join a pub crawl or group tour, which can be more affordable and allow you to meet fellow travelers. Thirdly, take advantage of the local culture by checking out free events such as salsa dancing lessons, live music performances, and street markets. Lastly, be aware of your safety by traveling in groups, staying in well-lit areas, and not accepting drinks from strangers. By following these tips, you can enjoy Cancun's vibrant nightlife while staying within your budget.
Explore Beyond Your Resort: Top Tips for Experiencing Local Life in Cancun
When traveling to Cancun, it's easy to get lost in the luxurious resorts and pristine beaches. However, if you truly want to experience the culture and local life of Cancun, you need to explore beyond your resort. Start by talking to locals, who can offer valuable insights on where to go and what to see. Try the local street food in the bustling markets, where you'll find traditional dishes bursting with flavor. Immerse yourself in the local music scene by attending concerts and festivals that showcase the region's talent. Take a walking tour of the city's historic sites, such as the Mayan temples of Chichen Itza or the archeological museum in downtown Cancun. To experience the natural beauty of Cancun, take a boat tour of the Nichupté Lagoon or visit the eco-parks that showcase the region's flora and fauna. And, of course, don't forget to hit up the local nightlife scene, where you'll find dance clubs, live music venues
Discover the Best of Cancun: Top 10 Do's and Don'ts for an Unforgettable Vacation
Are you planning a trip to Cancun? Known for its pristine beaches, sparkling waters, and bustling nightlife, Cancun is a popular destination for travelers seeking a tropical escape. To ensure you make the most of your visit, we've compiled a list of the top 10 do's and don'ts. First and foremost, do explore the natural beauty of this area, whether it be by visiting the Great Maya Reef, snorkeling in cenotes, or taking a day trip to Isla Mujeres. However, don't forget to be mindful of the environment and avoid any activities that may harm the delicate ecosystem. Second, do indulge in the local cuisine, from tacos al pastor to fresh seafood. But, don't forget to drink plenty of water and be cautious of street food that may cause an upset stomach. Third, do visit the historic sites and cultural attractions such as the Chichén Itzá ruins or the Cancun Underwater Museum. Yet, don't forget to respect the history